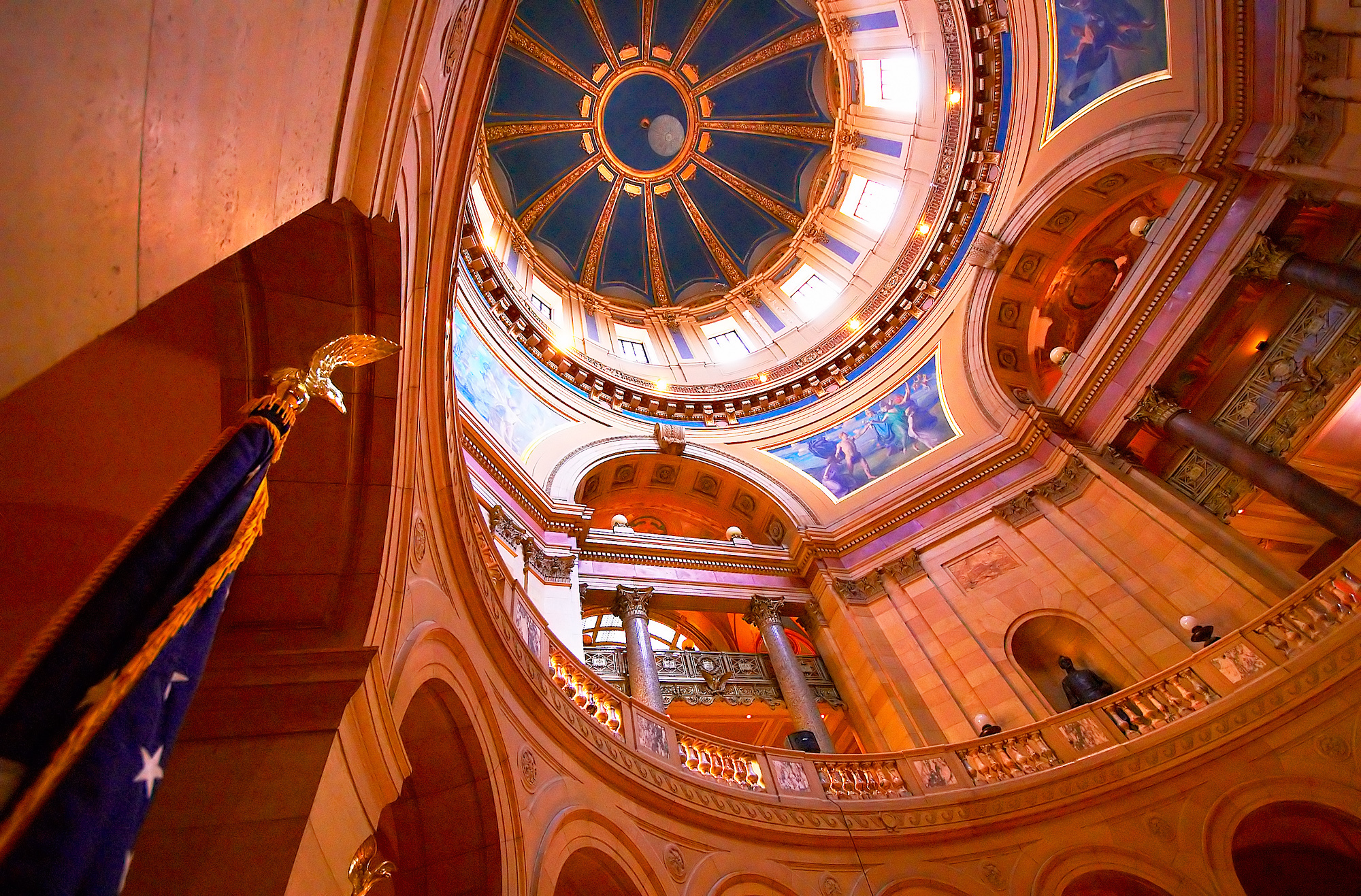 Eliminating Tech Tribalism
Surveying IT Collaboration in
State and Local Government
With government technology increasingly a team sport, Route Fifty partnered with the National Association of State Chief Information Officers to see how government leaders perceive collaborating across state and local agencies and jurisdictions.
Our hope is by getting a pulse on the perceived opportunities for—and barriers to—partnerships, government leaders at all levels will be better able to understand the spaces most ripe for collaboration, the most compelling arguments for working together, and the key impediments that they will need to overcome.
Route Fifty's independent research arm, Government Business Council, deployed a survey in September 2018 to a random sample of state and local government employees. 304 respondents completed the survey. 65 percent of respondents identify as 'elected/appointed officials' or 'executive salaried managers.'

We found public sector officials are excited about IT collaboration bringing greater cost efficiency, additional insight on best practices and improved productivity.
While purchasing hardware and software licenses off common contracts appear to be low-hanging fruit and particularly of interest to smaller jurisdictions, there is also strong interest in a wide variety of other services. Local government officials responded they are as interested in exploring backup/disaster recovery and cybersecurity contracts and services.
Although state and local government leaders are very receptive to collaborating around information technology, many are unaware of the availability of state contracts and services. Additionally, when they think of collaborating, they tend to stick to their own: states want to work with other state agencies, while local leaders favor other local counterparts.
Finally, many are not considering the state CIO as a potential partner. Ultimately, this uncertainty around state contracts and the role of the state CIO is an opportunity to demonstrate the value of partnerships with the CIO among government leaders at all levels.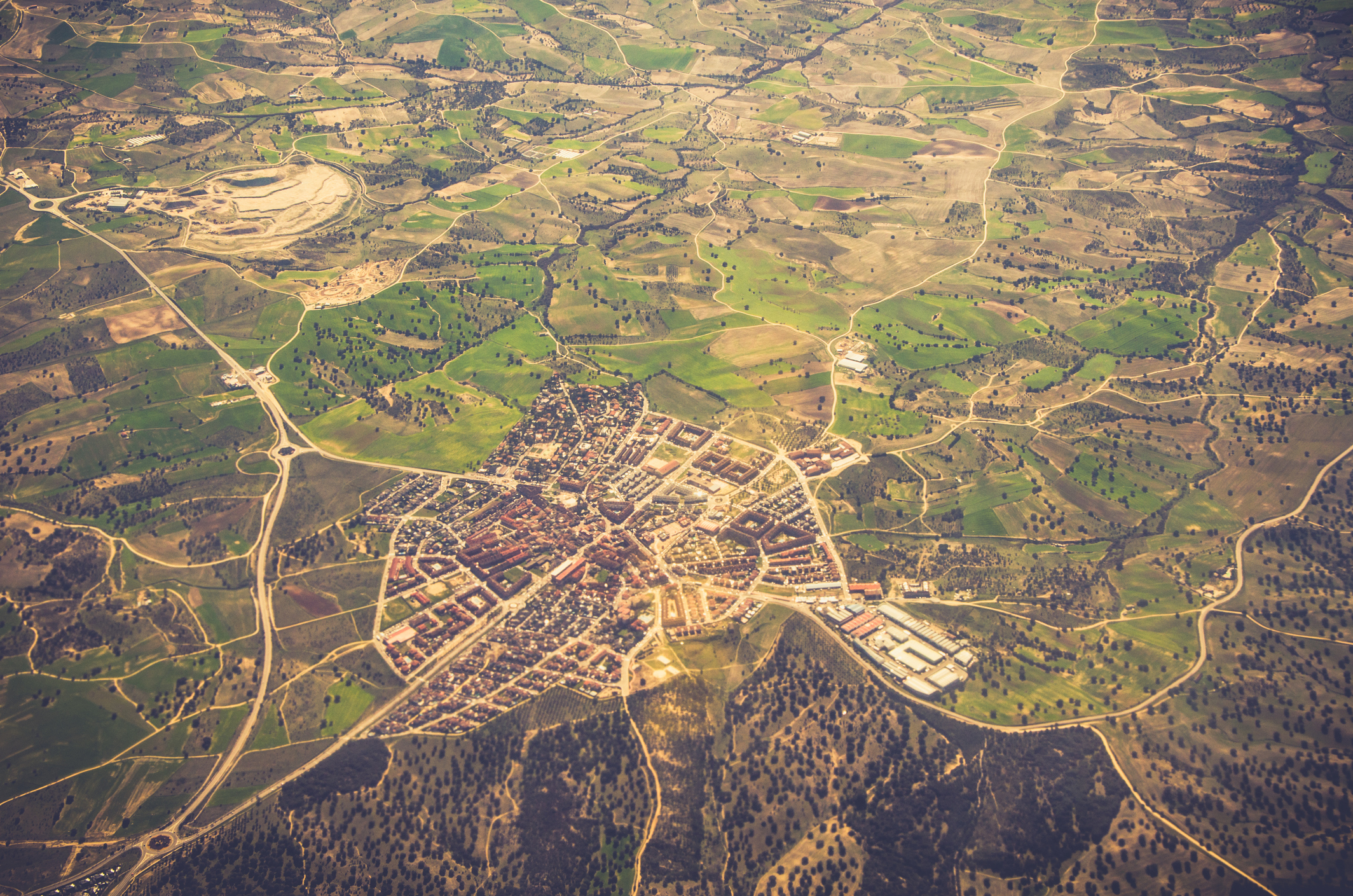 Half of government officials say collaboration is happening, and most are receptive to it. Fifty-three percent of respondents said their organizations are investing in shared services with other agencies and jurisdictions, and fifty-nine percent said their organization is receptive to it. Only 8 percent believed their organization was opposed to collaborating with other agencies and jurisdictions.
Those from local government jurisdictions over 150,000 in population were significantly more likely to say their organizations were investing in shared services with other agencies and jurisdictions than those from smaller jurisdictions (65 percent versus 50 percent).
Officials are excited about IT collaboration bringing reduced costs, shared expertise, and common standards.
Eighty percent of respondents cite cost efficiency as a primary benefit they associate with sharing IT services, making it the clearest top-of-mind benefit for most.
Over half of officials (56 percent) cite the "ability to leverage shared expertise/best practices," and 45 percent of our respondents cite common standards. Respondents also often noted simplified administration/processes (41 percent) and improved productivity (37 percent). Less than one in five (19 percent) cited "more time to focus on strategy" as a primary benefit.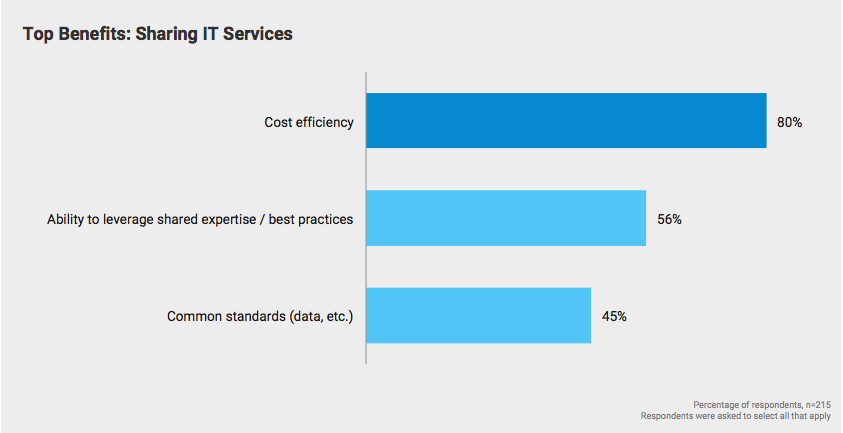 What State IT Contracts and Services Do Local Officials Use? What Do They Say They Want From Their State?
Whether aware of existing services or not, local government officials were most interested in purchasing backup/disaster recovery services and products, computer/hardware and software licenses, and cybersecurity services.
About one-third of respondents expressed interest in IT training, storage (e.g. cloud, mainframe, etc.), digital government and broadband/network solutions. Fewer local government respondents were interested in considering mobility solutions (20 percent) and data center hosting (18 percent).
Many are unsure or unaware about the availability of state contracts.
Forty-four percent of respondents were unsure whether their state government provided access to IT contracts or services for local government entities.
Another four-in-ten responded that they believed the state provided contracts or services to local governments. Just 16 percent responded their state did not provide access to IT contracts or services.
… And are unsure or unaware of the state CIO's role.
Most of those who are open to collaborating in the purchase of shared IT services do not typically think of the state CIO. Only one-quarter cited the state CIO as an entity their organization would likely choose as a partner.
In contrast, more than half say they would likely be open to partner with another state or local jurisdiction or agency and a third point to regional organizations or utilities.
Ultimately, state and local government officials feel more comfortable working with their own kind.
Two-thirds of local government officials said their organization is open to collaborating with other localities and local agencies. Seventy percent of state respondents said their organization are open to sharing IT services with other state agencies.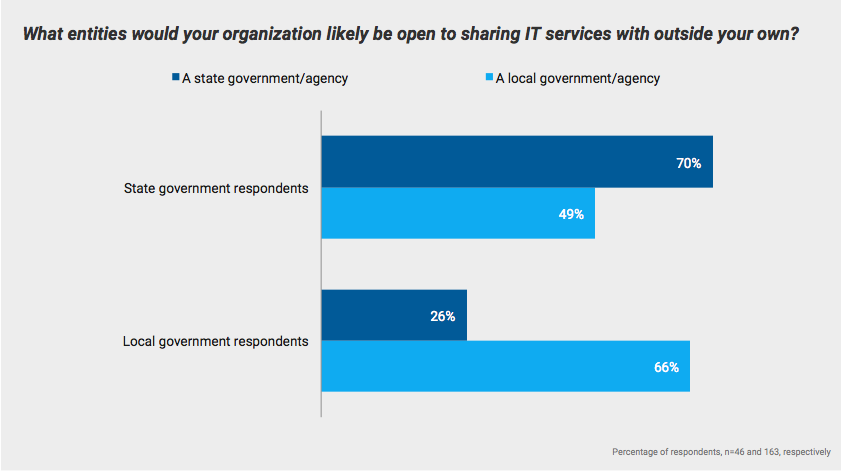 However, only 49 percent of local governments believed their organization wanted to partner with state government, and only one-in-four state respondents believe their organization wanted to partner with their local counterparts.
When it came to collaborating with regional organizations or utilities, 39 percent of local government officials were open to it in contrast to just 13 percent of state officials.
Finally, neither state or local officials are looking to share IT services with a non-profit or private sector entity, with just 7 percent responding that their organizations would be open to the idea.
When considering shared services, officials at all levels are heavily weighing security, policy and political concerns.
More than half of respondents say "concerns about security" (55 percent) and "different policy/regulatory requirements" (53 percent) are a potential barrier to sharing IT services. More than a third believe personal disputes/political conflict (40 percent) and a lack of trust (35 percent) are barriers, as well as a lack of customization (36 percent). Only 18 percent believe a lack of opportunity or expertise is a concern.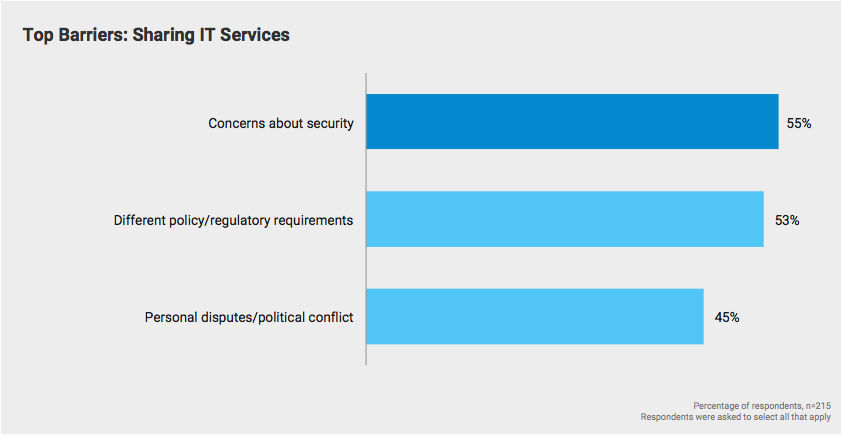 Statewide IT initiatives get very different receptions from officials.
Our state and local respondents were particularly supportive of a common application or portal to search for government services across jurisdictions, with 71 percent of respondents in favor, and only 3 percent opposing. Not far behind was support for a common broadband backbone for public agencies in their state, with 67 percent in favor and only 5 percent opposed.
Surprisingly, there was only lukewarm support for the two services that many localities showed general support for purchasing through the state: cybersecurity services and data storage / backups. While 59 percent supported state-provisioned cybersecurity services (e.g., monitoring, detection, response, mitigation, recovery) to all public sector entities in the state, only 37 percent supported consolidation of our data storage/backups with other governments.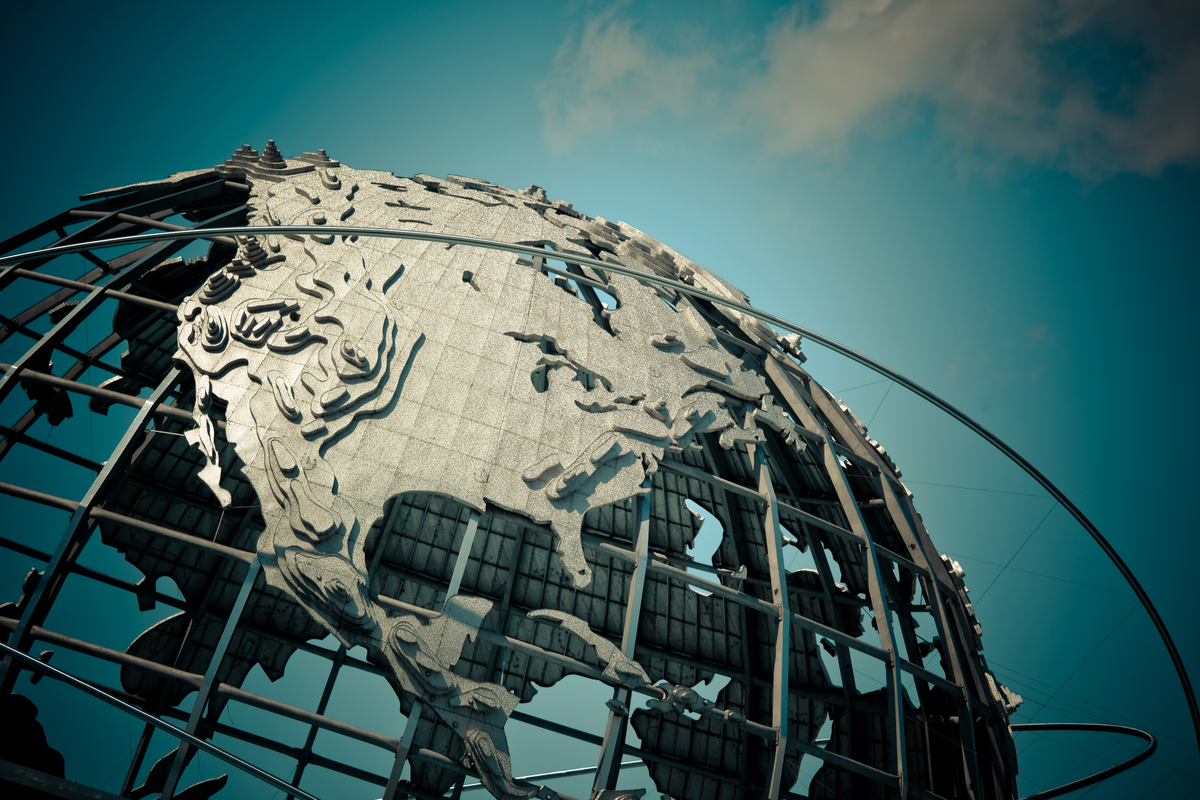 In an era where adopting new technologies is a unifying and exciting issue for government leaders and citizens alike, state CIOs are well positioned to raise their profile as an information technology broker. However, that will require being deliberate in marketing their capabilities among state and local leadership and growing the services available to jurisdictions beyond the state government campus.
The significant lack of knowledge of state IT services and contracts combined with the fact that state and local leaders are particularly open to a framework that provides reduced costs and shared expertise, shows that the state CIOs are strategically well positioned.
While purchasing decisions are clearly the leading area of collaboration, our survey shows there are more opportunities to build bridges around high-demand services like cybersecurity and disaster recovery with state and local audiences. Even major undertakings like a common application or portal to access government services across jurisdictions receive wide interest from leaders.
To be successful, our survey shows state CIOs will need to assuage security and policy concerns, as well as overcome turf battles; this is nothing new for those in this position, though. Establishing trust and breaking down barriers through shared information technology is inherent to a state CIOs success.
Ultimately, state CIOs who hope to build out services to jurisdictions across the state may want to consider building out a strategic plan to market and expand shared services to jurisdictions across the state.
Our survey results show an interest in big ideas around technology; by being both aggressive and deliberate, state CIOs should be able to overcome tribalism and build innovative IT solutions in collaboration with their local counterparts.

About Route Fifty
Route Fifty, a digital publication from Atlantic Media, is dedicated to connecting the people and ideas advancing state, county and municipal government across the United States.
About NASCIO
NASCIO's mission is to foster government excellence through quality business practices, information management, and technology policy. From national conferences, peer networking, research and publications, briefings and government affairs, NASCIO is the premier network and resource for state CIOs.
About Government Business Council
As Government Executive Media Group's research division, Government Business Council (GBC) is dedicated to advancing the business of government through analysis, insight, and analytical independence. An extension of Government Executive's 40 years of exemplary editorial standards and commitment to the highest ethical values, GBC studies influential decision makers from across the federal government to produce intelligence-based research and analysis.
About Laserfiche
Laserfiche is a leading global provider of enterprise content management software empowering organizations to take control of information and business processes.
With Department of Defense-certified records management, and intuitive solutions for document management and process automation, Laserfiche enables government agencies to improve productivity, efficiency and collaboration. State and local governments use Laserfiche's industry-leading solutions to provide quality public service.
For more than three decades, Laserfiche has fostered an active user community that shares ideas and inspires solutions. To learn more about Laserfiche's ECM solutions for government, visit https://www.laserfiche.com/about-laserfiche/.