Cases are rising in all but nine states. Unlike the past two waves, this one has no epicenter.
The United States is sleepwalking into what could become the largest coronavirus outbreak of the pandemic so far. In the past week alone, as voters prepare to go to the ballot box, about one in every 1,000 Americans has tested positive for the virus, and about two in every 100,000 Americans have died of it. Today, the United States reported 73,103 new cases, the third-highest single-day total since the pandemic began, according to the COVID Tracking Project at The Atlantic.
This third surge is far more geographically dispersed than what the country saw in the spring or summer: The virus can now be found in every kind of American community, from tiny farm towns to affluent suburbs to bustling border cities. This is the first of the American surges with no clear epicenter: From North Carolina to North Dakota, and Colorado to Connecticut, more Americans are contracting COVID-19.
The United States now reports nearly 60,000 new cases every day, numbers previously seen only during the peak in July and early August. Since the middle of September, the number of new cases diagnosed each day has swelled by 73 percent. The number of Americans hospitalized has increased by at least 40 percent.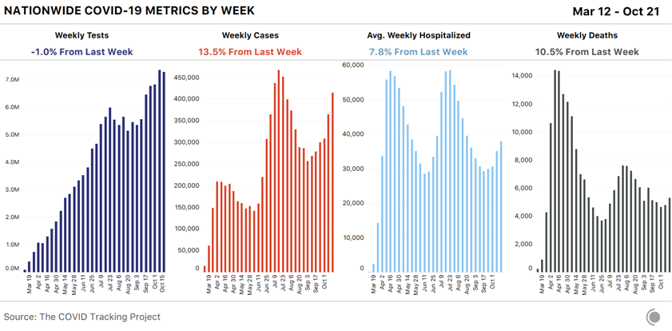 True to its pandemic response so far, the White House has not mounted an effort to stop this spike. Donald Trump has not spoken to the nation or pushed forward a strategy to address a third surge. And both the president and Vice President Mike Pence are holding crowded in-person rallies in some of the same states—such as Iowa, Pennsylvania, and Indiana—now seeing surges. In the next two weeks, yet more Americans will fall ill, in numbers that are certain to make this an Election Day unlike any other. If the country's medical and political crises were ever separate, they are not now.
The third surge has belied some of Trump's predictions about the pandemic. The president has repeatedly said that only states led by Democrats have struggled with the virus. "If you take the blue states out, we're at a level that I don't think anybody in the world would be at," he said at a press conference last month.
Since then, coronavirus infections have skyrocketed in rural America. The number of people hospitalized with COVID-19 has more than tripled in North Dakota, Montana, and Wisconsin. It has roughly doubled in South Dakota, Utah, Indiana, and Ohio.
[Read: The vaccine news that really matters]
But describing what's happening now as simply a red-state surge would be too pat. Cases are now rising in all but nine states—meaning this surge is more widespread, and harder to explain, than either of the earlier waves.
It may end up being less deadly, however: The United States now runs many more tests than it could in March and April, and people who are hospitalized with the virus are less likely to die. At the same time, the virus's long-term complications, which might range from respiratory disability to cognitive decline, now seem more ominous.
What's happening now might be best understood as three smaller types of outbreaks. You could call them the rural explosion, the swing-state surge, and the fatigue creep.
---
The rural explosion
The first phenomenon: After months when viral transmission seemed to dominate cities, the coronavirus has now wheedled its way into rural America. That's a large part of what's happening in North and South Dakota, which stand out even in a country of hot spots. Earlier in this article, I mentioned that one in 1,000 Americans has tested positive for COVID-19 in the past week.  But on Tuesday alone, one in every 1,000 residents of North and South Dakota was diagnosed with COVID-19. That's a per-capita rate of infection nearly double New York State's during the spring.
In North Dakota, the harder hit of the two, the number of people hospitalized with COVID-19 has tripled in the past month. The state is so deluged that it has asked residents to do their own contact tracing.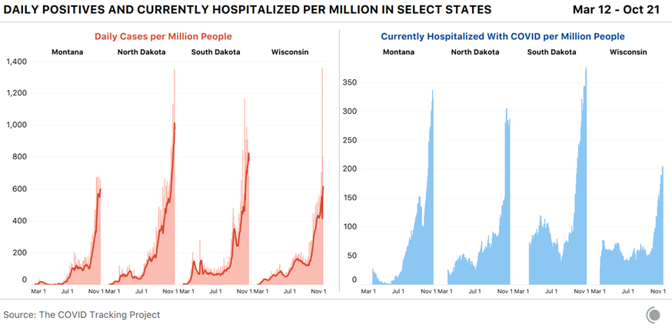 The state's cases are not limited to its largest cities, such as Fargo and Bismarck. Look at Ward County, for instance, which is home to about 68,000 people and, according to the state health department, reports nearly 646 active cases—one case for every 105 residents. Or Williams County, with a population of about 38,000, which reports 203 active cases—one case for every 187 residents. The state of Maine has 43 times more residents than tiny Stark County, North Dakota, but they reported the same number of new COVID-19 cases on Tuesday.
To some degree, the rural explosion is playing out across the conservative Mountain West. The western U.S. now reports as many cases per capita as it did in late June—but spread over the country in a very different way. In the early summer, California and the Pacific Northwest dominated the region's numbers; today, the interior states lead. Wyoming, Idaho, and Montana, where Democratic Governor Steve Bullock has fought incumbent Senator Steve Daines in a close congressional race, now each report at least 400 cases each day per 1 million residents. Utah is reporting more than 1,200 new cases a day, its worst-ever outbreak, but most cases remain concentrated in Salt Lake City and the surrounding area, according to state data.
The swing-state surge
Cases and hospitalizations are also rising across some of the Great Lakes and upper-Midwest states that could prove most crucial in the presidential election. The Midwest now has more COVID-19 cases per capita than any other region in the country, and is reaching rates of infection that come close to matching the worst of the Northeast's during the spring and the worst of the South's during the summer.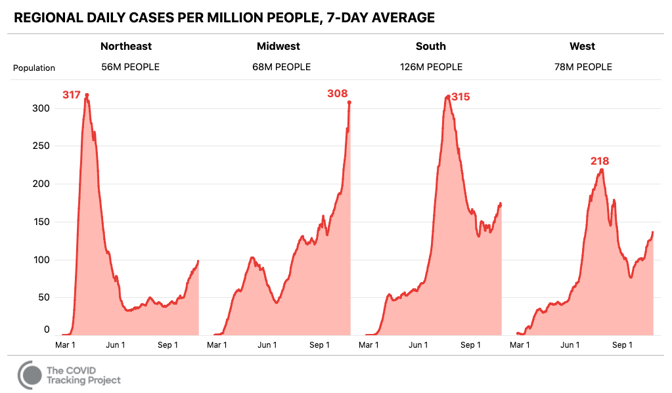 I wrote last month that Wisconsin looked like a growing hot spot. That warning has come true: New cases in Wisconsin have more than quintupled since dipping in late August, and hospitalizations have reached an all-time high. More than 3,500 Wisconsinites now test positive for the virus every day. The state's pandemic response has been politically polarized: While its Democratic governor, Tony Evers, has defended a mask mandate against criticism from Republican leaders and conservative legal groups, mask wearing has been spotty in some areas and many people have refused to reduce their travel to stop the spread of the disease, according to Wisconsin Public Radio.
In Ohio, cases and hospitalizations have more than doubled in the past month and now exceed the previous all-time peak. More than 2,000 Ohioans, on average, are now diagnosed with the virus each day.
In Iowa, the home of a close congressional race that could determine whether Democrats retake the Senate, a large outbreak continues to grow. More than 950 Iowans, on average, are diagnosed with the virus each day; and more than 500 are currently in the hospital, an all-time high.
[Read: Why Trump's rapid-testing plan worries scientists]
The most ominous state may be Pennsylvania, whose 20 electoral votes could determine the election's winner. The Keystone State saw a huge coronavirus outbreak in the spring, but this appears not to have protected it from another surge: Its numbers have deteriorated in the past month. On Saturday, the state reported more than 1,800 new cases, its third-highest single-day total of the pandemic. While many fewer people are hospitalized now than were in the spring, the state's outbreak is still growing: There are now at least 1,400 new cases a day, as many as in late April.
Voting in Pennsylvania has already become contentious, and Republicans and Democrats have fought over rules for voters who want to avoid going to polling places. Earlier this week, the Supreme Court ruled that the state could count mail-in ballots received up to three days after Election Day, blocking a Republican challenge to the policy. While voting in person is relatively safe, registered Democrats have requested absentee ballots at two to three times the rate of Republicans, according to the Pennsylvania Department of State. If a surge in COVID-19 cases limits turnout on Election Day, it could depress the GOP vote more significantly.
A pandemic-fatigue-induced creep of cases
The fact that Pennsylvania's cases are rising despite its earlier outbreak raises a third specter, which seems to be happening in New Jersey, where new cases have quadrupled since their low in mid-August. More than 1,000 residents of the Garden State now test positive for the virus every day, a return to late-May levels. Hospitalizations have remained at much lower levels, though about 300 more people are hospitalized than were last month. Deaths have not increased at all.
In the Northeast, cases have also recently increased in Massachusetts and Connecticut. They have also modestly risen in New York—every day, about 400 more people now test positive for the virus than did in the middle of last month—but numbers still pale in comparison with springtime levels.
[Read: This overlooked variable is the key to the pandemic]
Many of these states, Pennsylvania among them, saw large spikes in the country's first two waves. They successfully kept cases low throughout the summer. If they cannot now keep viral levels low as they enter the winter, it bodes ill for the hopes that any region can depress transmission indefinitely. (Surging caseloads in Europe offer the same warning.)
Since March, the United States has failed to keep the virus from spreading widely. In the past few weeks, that failure has again become acute, and now the most important date on the American political calendar will be defined by sickness. Trump has chosen Americans' fate during the coronavirus pandemic. Now the disease will define the day that the country chooses his.