Author Archive
Heather Kuldell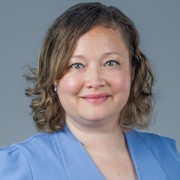 Heather Kuldell is the editor-in-chief of GovExec. Previously, she worked as a managing editor at Nextgov, Federal Times and C4ISR & Networks. She started her journalism career at Creative Loafing, an altweekly based in Atlanta, Ga.
Tech & Data
The state's Office of Aging plans to distribute voice-activated companions to prompt connections and wellness checks.
Tech & Data
Here are the news and updates about the suspected Russian hack you may have missed.
By

Heather Kuldell and Mariam Baksh
Tech & Data
The White House invoked Presidential Policy Directive-41 to coordinate a "whole of government" response.
By

Heather Kuldell, Aaron Boyd and Mila Jasper
---
Tech & Data
The Federal Aviation Administration gave its first OK to drone company to deliver commercial goods.
Management
"It is important that students are being introduced to in-demand sectors like cybersecurity to spark interest in the field and prepare them for success in the new Virginia economy," according to Terry McAuliffe.