Author Archive
Natalie Alms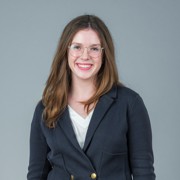 Natalie Alms is a staff reporter at Nextgov/FCW covering federal technology policy, service delivery, customer experience and the government's tech workforce. She is a graduate of Wake Forest University and has written for the Salisbury (N.C.) Post. Connect with Natalie on Twitter at
@AlmsNatalie
.
Workforce
Access to unemployment has been declining and differs drastically across demographic groups. The Labor Department is urging states and territories to do something about it in new guidance.
Digital Government
The U.S. Agriculture Department is working to help states address card skimming and other persistent problems in the SNAP program.
Workforce
Despite a significant increase in the number of people entering the cyber field in 2023, demand is still far outpacing that supply.
---
Digital Government
Under the pilot program, residents would be able to use the IRS program to file their federal tax returns online for the 2024 tax season. New York and Arizona are developing state-level filing systems.
Digital Government
A Labor Department official said efforts to help states modernize their UI systems are trending in the right direction, but funding may be insufficient.
Digital Government
Unemployment is on the rise in Maui due in part to the drastic drop in tourism after the devastating wildfires. But the state's rapid deployment of an underutilized federal identity verification tool will help it get benefits to the people who really need it.
Digital Government
The coming rulemaking would waive REAL ID Act requirements so that federal agencies can still accept mobile driver's licenses when the law's implementation starts in 2025.
Finance
States have until Sept. 4 to tell the IRS if they're interested in participating.
Digital Government
The funding reduction is part of the debt ceiling compromise, but the Labor Department says it still plans to focus on helping states combat identity fraud and strengthening the integrity of the UI system.
Finance
Tracking pandemic funds required the use of multiple federal, state and local data systems, a group appointed by Congress found. Ultimately, it had to contact state and local entities directly to gain a better understanding and fill data gaps.
Management
Risk aversion among government managers is blocking needed improvements to key programs, according to a recent white paper.
Digital Government
Pilot programs in two states focusing on identity verification for unemployment systems could set the stage for nationwide modernization.
Management
The Office of Management and Budget says that the president would veto a Republican proposal to rescind American Rescue Plan Act funding for unemployment if passed by Congress.
Digital Government
Nine states are requiring unemployment insurance applicants to verify their identity before submitting applications.
Digital Government
The use of facial recognition in unemployment insurance programs has spread across states, raising concerns from the Labor Department's watchdog about access and privacy.
Digital Government
The project is one example of a Biden administration push to rework intake forms for government programs to be more user-friendly and less time consuming.
Workforce
But the Government Accountability Office also cautioned that a firm estimate is tough to pin down. The analysis looks at an 18-month period starting in 2020.
Digital Government
The system, meant to help prevent duplicate participation, is expected to make enrollment and oversight easier with the Supplemental Nutrition Assistance Program.
Workforce
Automated tech, including artificial intelligence for job recruiting, interviewing and hiring, may discriminate against qualified job-seekers, government officials warn.
Workforce
Labor Secretary Marty Walsh told congressional lawmakers that the federal government also has to contribute to upgrading the system that the Government Accountability Office deemed a poorly performing government program.