Talented young people are moving to urban centers , raising the skill level of the labor force and attracting the attention of businesses. As a result, some of the job sprawl that took place in the early 2000s has started to swing back to cities, concludes a new analysis by the City Observatory think tank of Census data on local employment and housing.
From 2002 to 2007, as population grew in the suburbs, jobs followed. But since 2007, data from the 41 largest U.S. metro areas show that city centers (defined here as the area within 3 miles of each region's central business district) have seen a 0.5 percent annual increase in jobs, while the peripheries have seen a 0.1 percent annual decline: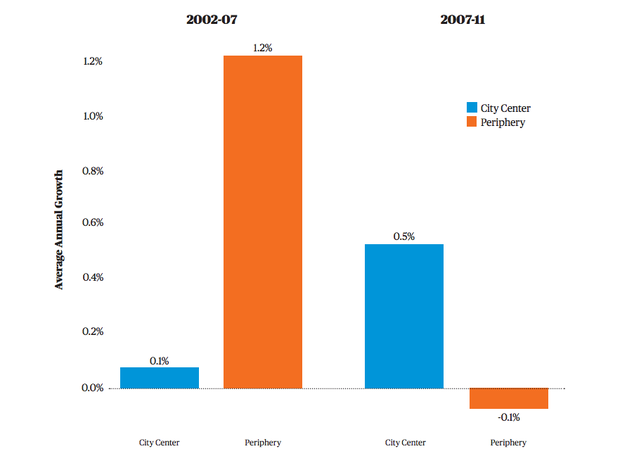 Jobs in the 41 metro areas analyzed by the report increased by 0.5 percent per year, while the jobs in the peripheries declined by 0.1 percent. (City Observatory)
But there's a caveat: Although this is a widespread trend, it is not a universal one, warns Joe Cortright, the director of City Observatory . Job growth in the peripheries of Houston, Kansas City, Las Vegas, and about a dozen other metro areas is ahead of their city centers. And overall, of course, most jobs still lie outside the urban core.
Still, even if every urban center isn't growing, the "decentralization" of jobs outside the urban core does seem to have stalled since 2007, as Brookings economist Elizabeth Kneebone pointed out in 2009. The City Observatory report shows that since 2007 more and more city centers are outpacing their outlying areas in terms of job growth. From 2007 to 2011, city centers experienced faster job growth than their surrounding regions in 21 of the 41 largest metros; before 2007, only 7 urban cores outperformed their peripheries:

The analysis controls for the economic effects of the recession and recovery. It finds that job growth in industries like banking and insurance—traditional fixtures of city centers—didn't account for post-2007 job growth alone. A key reason for the trend, according to the report, is the return of previously-decentralized companies in industries such as retail and manufacturing—many of which are following the scent of young, skilled labor back to city centers: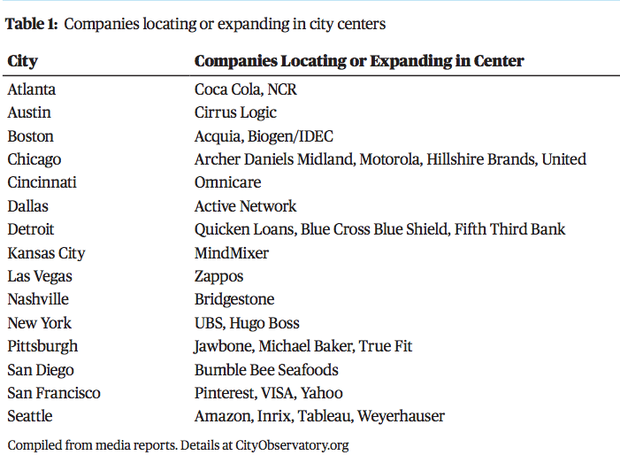 A lot of previously-"decentralized" businesses are now moving back to the city center. (City Observatory)
(Top image via Denton Rumsey / Shutterstock.com )