Author Archive
Mitch Herckis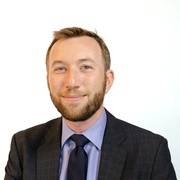 Mitch Herckis is Route Fifty's Senior Editor and Director of Strategic Initiatives. Mitch has spent 15 years focused on state and local public policy on behalf of non-profit organizations, the private sector, and now Route Fifty. Mitch most recently served as Director for State and Local Government Programs at a cybersecurity company. Mitch has also served as the Director of Government Affairs for the National Association of State Chief Information Officers (NASCIO), and Senior Legislative Counsel and Principal Associate for Federal Relations at the National League of Cities. Mitch has also served as a consultant, strategist, and advocate for individual states, cities, and towns on a variety of public policy concerns. He has represented federal employee associations to Congress and the Administration, and served as a producer and co-host for a Clear Channel radio talk show. Mitch holds both an MA and BA in Political Science from American University.
Management
It's time for our journalists to hear from you about the state and local leadership and programs with the biggest impact—nominate the cream of the crop for our fourth annual Navigator Awards.
Workforce
It is not simply a numbers game: diversity is a proven "differentiator" that research shows makes organizations better.
Digital Government
State legislation pushed by one company to require contractors to install the software would compromise data privacy and carry steep costs for companies and governments, the groups argue.
---
Workforce
The U.S. Conference of Mayors President on how he and his peers are helping residents confront the realities of today's economy—and what comes next.
Emerging Tech
The U.S. Conference of Mayors vice president focuses on getting his community excited for the "human aspect" of the disruptive technology.
Management
"Mayors are figuring out that if you do not have kids at the table ... you're probably not a very good mayor."
Workforce
Dayton Mayor Nan Whaley reflects on the changing conversation around technology and why executive roles in politics have been particularly difficult for women to obtain.
Digital Government
At SXSW, a beacon of technology idealism, mayors discuss how to deal with the difficult problems that can come with new tech.
Workforce
A group of young entrepreneurs are looking to empower workforce agencies and job seekers, harnessing the power of artificial intelligence.
Emerging Tech
One company hopes to create an "Internet of Garbage," with the promise to bring better logistics to municipal waste.
Digital Government
NASCIO opposes the legislation proposed in 23 states. One company has been vocal in advocating for the bills.
Emerging Tech
A cybersecurity firm showed they could take control of an e-scooter someone was riding from up to 100 meters.
Emerging Tech
How we keep people on foot and in cars from getting hit by trains hasn't changed much in the last century.
Management
2018 NAVIGATOR AWARD WINNER: Annissa Essaibi-George, Boston City Councilor, City of Boston, Massachusetts.
Emerging Tech
2018 NAVIGATOR AWARD WINNER: Michael Sherwood, Director of Information Technology, City of Las Vegas, Nevada
Management
Democrats picked up seven seats, but also lost a few competitive races.
By

Bill Lucia, Mitch Herckis and Dave Nyczepir
Digital Government
Georgia's secretary of state and Republican gubernatorial candidate has a history of attacking those who point out the flaws in his state's election cybersecurity.
Infrastructure
A resiliency team takes an out-of-the-box approach to America's least sexy problem.
Management
More and more states are allowing flexibility to people on how they are identified on official government documents, a key issue for transgender advocates.
Digital Government
Are public sector agencies ready take tech collaboration to the next level? Our survey says government officials want to, but don't know where to start.