Author Archive
Bill Lucia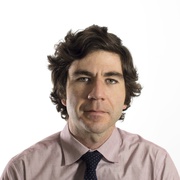 Bill Lucia is the executive editor for Government Executive's Route Fifty. He joined the publication as a reporter when it launched in 2015. Bill previously covered Seattle city government for the Washington state-based news outlet Crosscut. He holds a master's in public administration from the University of Washington's Evans School of Public Policy & Governance.
Public Safety
Gov. Ron DeSantis described "historic" damage to parts of the state from the hurricane, which made landfall with winds around 150 mph and caused massive flooding.
Infrastructure
States and localities are among those eligible for the grants, which are aimed at funding projects focused on innovations like autonomous vehicles and roadside sensors.
Finance
With interest rates rising, a new report shows sales down year over year and more homes selling for below asking prices.
---
Infrastructure
Louisiana is the first state to receive planning dollars from a pair of high-speed internet programs in the infrastructure law. Funding is expected to reach other states soon.
Management
Fourteen states saw significant drops in unemployment, according to new federal data, as the Biden administration touted a record-high number of states with jobless rates at or below 3%.
Infrastructure
The Transportation Department also says it plans to open the grant-making process this fall for $7.2 billion in passenger rail funding available under the infrastructure law.
Infrastructure
They're looking to tap money from the bipartisan infrastructure law approved last year. "This project is a perfect candidate for this funding," says the governor of one of the states.
Health & Human Services
The National League of Cities is accepting applications for the new program and will select 50 localities to participate. The initiative will build on efforts to track Covid-19 in wastewater.
Infrastructure
With billions in proposed spending, the package could affect both government programs and regional economies.
Public Safety
The former president's remarks focused heavily on public safety, as he put forward proposals like moving the homeless to tent cities, hiring thousands of police and overriding governors unwilling to deploy the National Guard.
Finance
President Biden's top advisor on the American Rescue Plan Act dismisses Republican claims that money from the law is being wasted. But he's also urging local government leaders to look for more ways to highlight their successes with the federal funding.
Health & Human Services
Cook County, Illinois, where Chicago is located, is launching the initiative using American Rescue Plan dollars and hopes to wipe out hundreds of millions of dollars in unpaid bills.
Finance
A new initiative focuses on how cities and counties can capitalize on underused public property, like parking lots and office space.
Finance
Idaho this year had extra revenue that was equal to nearly half the amount of its general fund revenues, and that was on top of federal aid. Here's what lawmakers did with the money.
Finance
His plan to suspend the federal tax to help ease high gas prices has low odds of passing Congress. The president says states are in a solid financial position to take action, but experts have doubts about whether gas tax holidays at any level are good policy.
Infrastructure
Twenty-two locations were in the running for the high-profile tournament, 16 across the U.S., Canada and Mexico won out.
Finance
In states where cannabis is legal, a new analysis finds excise tax collections from pot leading booze. But the money is a small share of state budgets and changes to the industry could affect revenues.
Infrastructure
The White House released new information this week for places looking to access the cash and officials said to expect over $2 billion in funding announcements for rural areas this month.
Infrastructure
An order from the high court means that Trump-era guidelines imposing new limits on state authority to approve or deny energy infrastructure projects will remain in effect as the Biden administration works on a rewrite of the rules.
Management
Shifting "organizational culture," the unwritten rules that dictate how work gets done, can be incredibly difficult in city halls. A new guide from a team of NYU professors aims to help change that.