Author Archive
Bill Lucia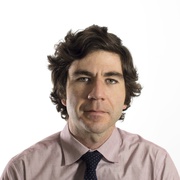 Bill Lucia is a senior editor for Government Executive's Route Fifty. He previously covered Seattle city government for Crosscut.com and holds a master's in public administration from the University of Washington's Evans School of Public Affairs.
Tech & Data
A "culture of public service" is key, but initiatives like "no meetings Thursday" can also help, officials said.
Infrastructure
The Interior Department is "laying out an ambitious roadmap" for the proposed wind power sites in waters off eastern and western states by 2025.
Tech & Data
Processes that are labor intensive, and that involve high volumes of information are among the areas where it could prove useful.
---
Tech & Data
A new survey sheds light on priorities and concerns for state chief information officers, over a year after their work was radically affected by the pandemic.
Tech & Data
CEO Elon Musk cited housing affordability and commute times in announcing the relocation, which follows a clash between the billionaire and California officials last year.
Management
It's not always easy for cities to collect feedback from residents. Officials are looking at fresh ways to get the job done, while trying to avoid pitfalls like "engagement fatigue."
Finance
The decision comes amid debate in Congress over whether to roll back the $10,000 limit on a write-off for state and local taxes.
Infrastructure
They plan to work together building out charging infrastructure and on other issues. The agreement comes after Ford unveiled plans for big electric vehicle investments in another region.
Finance
An analysis shows no clear signs of severe damage last year to the funds, although the share meeting a funding benchmark did fall.
Tech & Data
One governor is describing a planned facility as the largest economic development project his state has ever seen.
Finance
Local officials and others launched discussions this week about a broad revitalization proposal for Appalachia. Talks come as federal legislation could unlock money to help make it feasible.
Health & Human Services
New research allows for easy comparisons of how states stack up based on a variety of social welfare and pro-labor policies, and also offers a look at economic outcomes in each place.
Infrastructure
That's on top of longer standing troubles filling jobs. The trio of challenges is stacking up at a pivotal moment for infrastructure spending in the U.S.
Management
Two justices have made clear that they believe the court is neglecting too many of the disputes.
Health & Human Services
But the new federal statistics also reveal food insecurity among children in 2020 didn't reach levels seen during the last recession.
Finance
Alejandra Castillo last month took the helm of the U.S. Economic Development Administration, which has seen its budget swell with over $4 billion in pandemic-era grant funding.
Infrastructure
New federal statistics show that a troubling trend with a rise in fatalities on the nation's roadways continued into this year.
Finance
Pandemic relief spending by the federal government contributed to historic gains in the amount of money Americans collected during the first quarter of the year.
Health & Human Services
Researchers offer an estimate now that the Supreme Court has struck down a pandemic-era federal eviction ban.
Tech & Data
Many positions will be in Seattle and northern Virginia, but the company is looking to recruit in other regions as well.