Author Archive
Eric Katz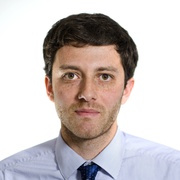 Eric Katz writes about federal agency operations and management. His deep coverage of Veterans Affairs, Homeland Security, the Environmental Protection Agency and U.S. Postal Service has earned him frequent guest spots on national radio and television news programs. Eric joined Government Executive in the summer of 2012 and previously worked for The Financial Times. He is a graduate of The George Washington University.
Management
Stakeholders warn shortages again threaten the Biden's administration's approach to combatting the fires.
Finance
A measure to fund agencies through March 11 will allow appropriators to get over the finish line on full-year spending, top House Democrat says.
Health & Human Services
The White House again ups federal agency deployments to confront the pandemic and the surging Omicron variant.
---
Public Safety
Some Republican senators threaten to derail plans over COVID-19 vaccine mandates.
Health & Human Services
The Biden administration is requiring at least weekly COVID-19 testing for the unvaccinated, but the White House has offered few details about how that will happen.
Management
The new president quickly turned to a deluge of day one priorities.
Management
Vote on a one-week funding extension is expected this week, ahead of Friday's deadline. Lawmakers could eventually end up including Covid relief in the package.
Management
Rushing in an effort to truncate the data processing timeline has "some risks," bureau official admits.
Management
Enumeration was under lower court order to keep count going through Oct. 31.
Management
Census enumerators say they have received inconsistent messages and workloads in recent days despite court order to keep count going.
Management
The bureau will have through Oct. 31 to finish its enumeration under the injunction, though an appeal is expected.
Management
That decision is risking an incomplete and inaccurate count.
Management
The decennial count is ahead of schedule overall, but a condensed schedule and hiring shortfalls are creating significant risks.
Management
Census has just a month to complete its count and the Government Accountability Office says it still faces significant challenges in collecting accurate data.
Health & Human Services
Dr. Anthony Fauci and others say their agencies are taking "financial risks" to pursue potential treatments and a vaccine, but will not compromise science.
Management
All candidates at a union forum said they support federal legislation to ensure that public employees in every state have the right to join a union and bargain collectively.
Management
Federal officials have had too much discretion to institute their personal policy preferences, administration officials say.
Management
A slow process has led to four states and territories devastated by hurricanes receiving virtually none of the funds Congress appropriated.
Management
The deal is "in principle" and needs to be finalized.
Management
Negotiators have hit a stumbling block on border security.