Author Archive
Jack Corrigan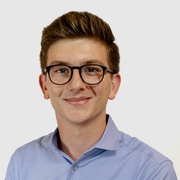 Digital Government
U.S. Sen. Ed Markey's, D-Mass., sweeping privacy framework would limit the amount of data companies collect on users and require more transparency about how it's being used.
Digital Government
A bill introduced Monday would create a grant program for cash-strapped states that want to bolster their digital defenses.
Digital Government
The Interior Department flew more than 10,000 unmanned missions to survey federal land, monitor wildlife and respond to natural disasters.
---
Digital Government
The federal government could do more to promote innovation at the state and local levels by doing less, according to San Jose's mayor.
Digital Government
There's no telling what races online adversaries might try to sway, says a Homeland Security official.
Management
In early tests of its augmented reality training software, a Texas-based company made first responders perform faster and more accurately.
Digital Government
A D.C.-based startup with roots in the insurance market is using machine learning to predict the probability of car crashes on just about any stretch of road.
Management
Under a new ruling, law enforcement officers would be able to identify drones from afar.
Digital Government
GAO researchers recommended lawmakers give regulators more power to write rules and punish the companies that break them.
Management
People who violate the temporary flight restriction will face jail time and hefty fines.
Management
H.R. 1 would codify many of the security measures lawmakers have pushed for the last two years.
Emerging Tech
A federal contract is testing a system that would alert drivers with the goal of avoiding collisions.
Emerging Tech
The agency wants first responders' clothing to be able to generate and store electricity.
Digital Government
But lawmakers want to know how to stop cryptocurrency miners from overwhelming local utility companies.
Management
The Interior Department's been working on a plan to expand its aerial firefighting efforts from daylight-only to a 24-hour cycle.
Digital Government
Tech companies must be more forthcoming as misinformation campaigns ramp up before the midterm elections, internet researchers said.
Digital Government
Some of the outstanding recommendations go back to 2005, just after Hurricane Katrina.
Management
The Census Bureau is facing more problems in the lead up to the 2020 Census.
Digital Government
They've also been faster and safer than putting boots on the ground, an agency official said.
Emerging Tech
The joint venture aims for quieter, more efficient propellers for stealth or urban flights.