The nonprofit group Vote Mama Foundation is trying to collect comprehensive data about a unique subset of lawmakers.
Originally published by The 19th.
One lawmaker ran to a vote while still pumping breastmilk for her baby. Another fought to take back the statehouse's lactation room after another legislator began using it for an office. And still another legislator drove extra miles between the Capitol and home to see her young children more frequently.
These can be the realities of lawmakers who are also mothers of small children. They often face unique challenges that can sometimes feel siloed in statehouse settings where the overwhelming majority are still older men. While the demographics of these policymakers are changing—more than 31 percent of legislative seats are now held by women —less is understood by the public about this unique subset.
Vote Mama Foundation, a nonprofit organization that advocates for policies that help mothers run for office, seeks to change that with what it's describing as a first-of-its-kind review of motherhood in statehouses. 
The group began recently sending a survey to women lawmakers and others in an effort to capture information about their experiences, including as parents and caregivers. The questionnaire was first sent to lawmakers in Kentucky this month as part of a pilot run, with plans to expand survey outreach to legislators in western states in early February.
Research shows mothers of young children make up just 6 percent of Congress. But there's no definitive data on how many are in statehouses and how their presence impacts workplace conditions and policy debates, especially at a time when parents of young children are disproportionately impacted by the pandemic. 
"If we're looking at breaking down structural barriers to make it easier for moms with young children to run for office, we need to know what those structural barriers are across the country," said Liuba Grechen Shirley, the founder and CEO of Vote Mama Foundation and Vote Mama PAC, which helps mothers run for office. "I want to go state by state and see what's really holding women back from running, what's holding them back from even making the decision to run, and then what's holding them back once they're in office."
Kathy Tran, 42, has a lot of experience in navigating motherhood and policymaking.
In 2018, the Virginia lawmaker brought her newborn daughter to the Capitol and breastfed the baby from the House floor. She balanced those responsibilities in part by arranging nearby day care and driving home often to see her family.
Tran gave birth to a fifth child in 2020 and has continued frequent trips between the Capitol and home to see her husband and children, though the pandemic has meant she can't bring her youngest with her. On a recent weekday in January, Tran drove three hours to spend two and a half hours with her family. She uses the time to also nurse her youngest son.
"I think that gives you a sense of some of the difficulties of being a mom legislator, when you want to be present and with your family and let your kids know that you're there for them," Tran said. "At the same time you are in the Capitol, and you want to show up every day for your constituents to do your work. So it's definitely a balancing act."
Vote Mama hopes to stagger additional regional outreach into 2022, with a goal of releasing a regional report about the western states around Mother's Day and subsequent reports after that. Lawmakers who want to participate early can request the survey on the group's website. Vote Mama staff plan to have multiple outreach methods to ensure a high participation rate.
"The State of Motherhood Census" aims to collect enough information to analyze data and share it with researchers and other stakeholders, though it will keep identifying information private. The survey focuses on women but also asks participants whether they identify as cisgender women, intersex, nonbinary, transgender or another identity.
The survey asks about lawmakers' child care needs, including costs and access issues. Another section asks whether a lawmaker's statehouse workplace has resources for parents of young children, including lactation rooms, changing stations in the bathrooms, child care facilities or a caucus dedicated to parents.
These kinds of workplace accommodations have gained attention in recent years, particularly from parent legislators. After Michigan Sen. Mallory McMorrow gave birth to a daughter in early 2021, she tweeted about how she and other lawmakers were not eligible for the 12 weeks of paid parental leave available to state workers because the legislators were technically a different kind of employee.
Because Michigan lawmakers ultimately determine their own rules, McMorrow took 12 weeks off to care for her baby. The 35-year-old Democrat held a virtual event to share information about how her staff would be able to continue constituent services. She acknowledged at the time that it might be a political risk. Months later, a conservative think tank published data that showed she missed the most votes last year in the legislature without context about her pregnancy.
The experience frustrated McMurrow.
"That is the reason why I wanted to talk about it so openly, because I expected that that would happen," she said.
McMorrow said a survey of this nature could bring clarity to a space that still has work to do to be more accommodating. The Michigan Capitol does not have a lactation room, and lawmakers can't vote by proxy, an issue that lawmaker parents highlighted at the beginning of the pandemic. If anything, in recent months more statehouses have rolled back such accommodations despite a spike in COVID-19 cases nationwide.
"It is a system that punishes people who are caregivers," she told The 19th. "And unless we change the system, it's just effectively saying that this is not a place for somebody who's a caregiver, which means that those lived experiences are not represented in the legislature."
Nebraska's state capitol had a lactation room — but last year, a lawmaker allowed it to be turned into an office amid renovations.
The lawmaker, Sen. Dan Hughes, defended the move in part by noting that a separate space for lactation needs existed on the Capitol's first floor. He was referencing a pod located inside a room used to copy paper that is open only during certain hours and lacks a sink to clean pumping materials.
Sen. Machaela Cavanaugh, a Democrat who pumped and breastfed her youngest from the statehouse during the 2019 session, had helped raise private funds for the new lactation room and its furniture, changing table and sink. A legislative committee has agreed to restore the lactation room during ongoing Capitol renovations but limited its accessibility to legislators and legislative staff instead of the public.
"I've been told to feel like this is a good outcome and a good compromise to the situation," Cavanaugh told The 19th. "How I actually feel is that it never should have been done in the first place."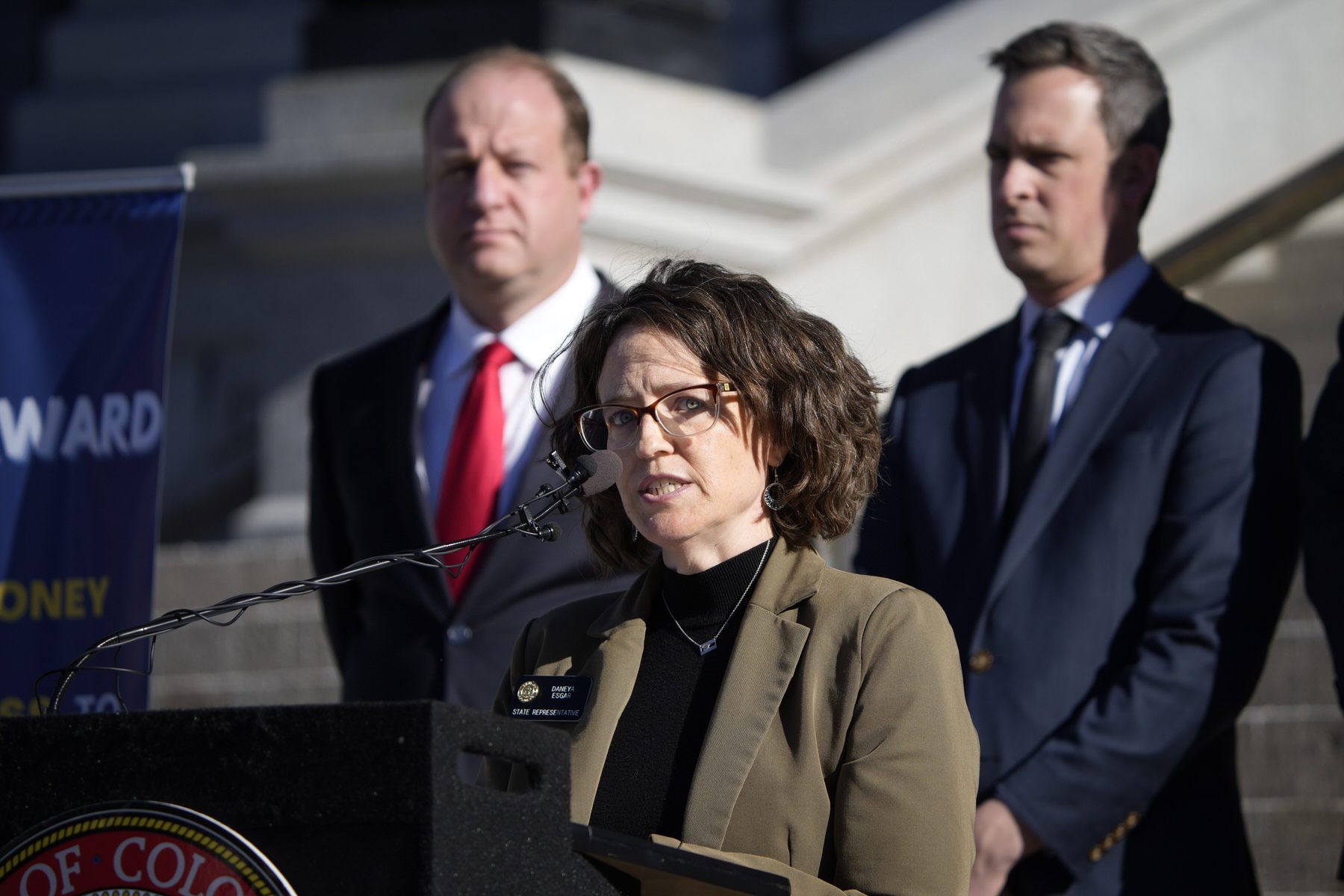 Vote Mama also will inquire about lawmakers' domestic responsibilities outside of the capitol. Daneya Esgar, a lawmaker at the Colorado legislature, doesn't know what she would have done if her wife was unable to take a leave from work this year to help care for the couple's newborn daughter. The three of them live near the Capitol during the work week while Esgar serves her last term in office.
The realities of new parenthood have been evident. The 43-year-old Esgar was needed last week on the House floor for a vote. She was in her private office pumping breast milk at the time. Esgar is the House's Democratic majority leader and noted her leadership position at the Capitol provided a privilege for close access to the chamber floor. 
"I was kind of in a panic for a minute," Esgar told The 19th. "Because it would have taken me too long to take my pump stuff off, get my dress back on, put my suit jacket back on and get to the floor in time for the vote. So I literally just had to throw a suit jacket over everything and hope it was somewhat closed and run onto the floor and hit my button."
Tran said nursing parents at statehouses manage so much behind the scenes, including figuring out when to pump and how often, while scheduling around meetings with lawmakers, constituents and other groups.
"That's what you see," Tran said of Esgar's brief appearance on the floor with her pumping equipment, "… but there is a heck of a lot of planning and juggling."
When Esgar tweeted about the experience, a fellow Democratic lawmaker, Rep. Kerry Tipper, wrote in response: "Yeah mama! Welcome to our pump & vote club." She tagged a handful of other Colorado legislators with young children.
Tipper, who gave birth to a daughter in September 2020, often pumped at the statehouse and brought her baby to work at times. She said while the Colorado legislature does not have a parental leave policy, she was granted accommodation requests like an office near the floor chamber and committee responsibilities that allowed for flexible scheduling.
"There have been so many changes in recognition of what it means to be able to both parent and legislate that make this possible. But I'm sure there are other state legislatures across the country that don't have that," the 38-year-old  said.
Grechen Shirley believes a more complete picture of parenthood at statehouses could answer "foundational questions" about how American politics should be shaped by parents and caregivers.
Her separate efforts to standardize the use of campaign funds to pay for child care remains a top priority. To date, at least 26 states have approved such use, either through legislation, ethics commissions or other state-related rulings.
"Our policies have failed women and families for generations," Grechen Shirley said. "There's a very real reason. We don't have their voices in Congress. We don't have their voices in state legislatures, in city councils, in town councils. There's barriers that are set up specifically to keep women out and to keep women with small children out of office."
Powered By
NEXT STORY: Covid Conflicts Smolder in States