Author Archive
Alisha Powell Gillis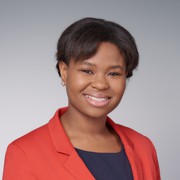 Alisha Powell Gillis is a former senior editor for Route Fifty. She was responsible for programming live and online events content, moderating panel discussions and soliciting, editing and writing analytical pieces. Before joining Route Fifty, Alisha was the director for community impact at the Urban Libraries Council (ULC) where she worked to connect urban public libraries to critical issues in state and local government and led event programming. Prior to ULC, Alisha served the nation's governors for nearly a decade at the National Governors Association where she specialized in homeland security, emergency management and cybersecurity issues. Alisha holds a master's degree in global security studies from Johns Hopkins University and a bachelor's degree in political science from Hofstra University.
Workforce
COMMENTARY | The private sector offers a glimpse into new leadership roles that can help state and local governments foster a better work environment.
Digital Government
Cities and other localities are entering a new phase with how they incorporate data into decision-making.
Digital Government
Route Fifty and GCN join forces for the virtual GovExec SLG Tech Summit happening this week, Nov. 1-3. Tune in to hear from local leaders from across the country about how innovations in technology are improving operations and services.
---
Management
Route Fifty's third annual Future Cities summit is Sept. 27-29. Join us to hear how local leaders from across the country are preparing for the opportunities and challenges of tomorrow.
Workforce
Route Fifty will explore the major workforce trends affecting government at our free virtual State of the SLG Workforce summit.
Management
The panel of leading state and local government experts will offer guidance to the publication's editorial team.
Management
COMMENTARY | It's a position that can come with tough challenges. City and county leaders should focus on three key actions to set their chief equity officers up for success.
Management
COMMENTARY | Organizers of the five-day virtual festival want local governments to rally around the concept of "anti-fragility" and embrace big, bold changes.
Management
COMMENTARY | 2020 should teach all of us that we can no longer ignore our biggest challenges.
Management
Next week, Route Fifty will host Future Cities—a weeklong digital experience that will help government officials envision what the next decade of city government could look like.
Management
Route Fifty Pulse Check feat. Mayor Nan Whaley
Management
COMMENTARY | The recent surge of coronavirus cases has brought us back to square one of our response due to the premature end of statewide stay at home orders.
Management
COMMENTARY | Institutionalized racism has been an existential threat to the black community for centuries. In the aftermath of George Floyd's death, it's up to state and local leaders to usher in badly needed systemwide reform to end racial injustices.
Finance
COMMENTARY | Main Street America is facing its toughest crisis ever as people stay at home to slow the spread of coronavirus. State and local governments need to step up to help businesses stay alive.
Management
COMMENTARY | Governors and mayors are engaging in direct and honest messaging to motivate residents' responses to the coronavirus pandemic.
Management
COMMENTARY | Governors across the United States have taken a proactive, hands-on response to the coronavirus pandemic.
Management
For the fifth year in a row, the Route Fifty roadshow will explore the biggest themes in state and local government. This year's roadshow kicks off in Houston, Texas to explore the city's resiliency journey.