Author Archive
Bill Lucia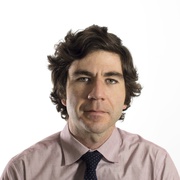 Bill Lucia is a senior editor for Government Executive's Route Fifty. He previously covered Seattle city government for Crosscut.com and holds a master's in public administration from the University of Washington's Evans School of Public Affairs.
Finance
A new study concludes that school spending was billions short in recent years compared to where it would have been if spending trends during the early 2000s continued.
Infrastructure
The agency is teeing up projects for a new round of loans under a low-cost borrowing program for water and sewer infrastructure.
Finance
A new online dashboard offers insights into what cities and counties intend to do with the federal pandemic aid.
---
Finance
People earning less and without college degrees were more likely to say they're having difficulties.
Management
Nearly 80% of mayors responding to a new survey said American Rescue Plan Act funding would help their cities accomplish goals related to homelessness and infrastructure, among other areas.
Tech & Data
Efforts by Los Angeles' controller to open up city fiscal data took on an added dimension when Covid-19 hit.
Health & Human Services
The funding comes after the pandemic dealt a hit to rural America's already eroding health care system.
Finance
In a year that's already seen a major infrastructure package signed into law and billions in pandemic aid, domestic spending legislation the U.S. House approved last week promises to direct additional federal cash towards state and local priorities.
Infrastructure
Speaking to city leaders, the transportation secretary also said his department would strive to make programs "user friendly" for communities of all sizes and highlighted road safety efforts.
Management
Historic amounts of federal funding are flowing to the local level. But cities are also grappling with a host of difficult problems.
Finance
The economic development program received renewed scrutiny on Capitol Hill this week, with some lawmakers and experts suggesting it is in need of reforms.
Infrastructure
The White House announced that a former mayor will help lead an implementation task force for the measure.
Finance
Legislation awaiting consideration in the U.S. House would give states and local governments more leeway in how they can use their allotments of federal pandemic aid, including by letting more money go to transportation projects.
Tech & Data
The poll of over 800 local government officials looks at trends with how departments are embracing specialized software and how satisfied they are with it.
Infrastructure
Advocates say $4 billion in domestic spending legislation that could help revamp roads that split apart cities is a crucial addition to funding in the infrastructure bill Congress approved last week.
Infrastructure
Congress' approval of a roughly $1 trillion public works package marks a milestone for cities, states and counties that have pressed for years to get federal infrastructure spending boosted.
Finance
The latest proposal would lift the cap on the state and local tax deduction to $80,000.
Finance
Meanwhile, in the Senate, two lawmakers offered up an alternative plan. It does seem there's support for including some kind of rollback of the cap in the budget bill now being negotiated.
Finance
The specifics of lifting the $10,000 limit on the state and local tax deduction were still coming into focus late Tuesday, with a key progressive senator rejecting one leading option.
Finance
A last-ditch effort to salvage tax-exempt advance refunding and other proposals appears to have come up short.