Author Archive
Courtney Bublé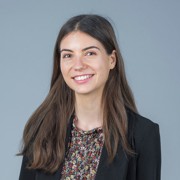 Courtney Bublé is a staff correspondent who covers the federal government with a focus on oversight, management, contracting and regulations. In 2022, she won the American Society of Business Publication Editors' Young Leaders Scholarship and was selected for the Poynter-Koch Media and Journalism Fellowship for 2022-2023. Before joining Government Executive in July 2019, she worked for NBC News. Courtney graduated from The George Washington University in 2018.
Infrastructure
There has been movement to get some employees back in person and assess real estate needs, but the mayor would like more specifics.  
Health & Human Services
Two agencies are teaming up to establish a program to recruit and cultivate public health officials. "We saw throughout the Covid pandemic that there was a real need to support local communities," one official says.
---
Public Safety
Mitigating the virus comes down to "testing, tracing and timely vaccines and treatments," a senior federal health official says.
Finance
The purpose is not to say, "mission accomplished," but to continue sharing information and hearing what isn't working, a senior White House official says.
Infrastructure
New guidance directs agencies on implementation of the $1 trillion Infrastructure Investment and Jobs Act. 
Public Safety
The role is "not a political job in any way, shape or form" and "if we go out of business, then I think you're missing a key element of … oversight," Brian Miller says.
Health & Human Services
Public health officials announced plans for vaccine booster shots for recipients of the Moderna and Pfizer vaccines. Plus, other Covid-19 updates.
Health & Human Services
The Biden administration has repeatedly said there will be no federal mandate, but it may be difficult to sit on the sidelines as states and businesses develop policies, experts say.
Public Safety
Among other things, the effort will address hate crimes, poverty and environmental justice and representation in government jobs.
Management
The directive furthers several executive orders and memos from President Biden.