Author Archive
Natalie Alms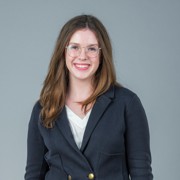 Natalie Alms is a staff writer at FCW covering federal technology policy, service delivery, customer experience and the government's tech workforce. She is a graduate of Wake Forest University and has written for the Salisbury (N.C.) Post. Connect with Natalie on Twitter at
@AlmsNatalie
.
Finance
But the Government Accountability Office also cautioned that a firm estimate is tough to pin down. The analysis looks at an 18-month period starting in 2020.
Tech & Data
The system, meant to help prevent duplicate participation, is expected to make enrollment and oversight easier with the Supplemental Nutrition Assistance Program.
Tech & Data
Automated tech, including artificial intelligence for job recruiting, interviewing and hiring, may discriminate against qualified job-seekers, government officials warn.
---
Health & Human Services
Labor Secretary Marty Walsh told congressional lawmakers that the federal government also has to contribute to upgrading the system that the Government Accountability Office deemed a poorly performing government program.
Finance
The USDA says that the grants fall in line with administration priorities around equity and inclusion, as well as improving the customer experience of Americans interacting with government programs.
Tech & Data
Data on access to unemployment insurance broken down by demographics can help program administrators make sure that they help everyone entitled to the benefit access it, the Labor Department says.
Tech & Data
The Biden administration is fleshing out a plan to organize government services around the needs of Americans and not around agency org charts.
Tech & Data
Amanda Renteria talks about the recent customer experience executive order, the nonprofit's work in federal and state government service delivery and what's next.
Finance
Total fraud levels in pandemic relief programs are upwards of $100 billion, but getting a clear estimate is made difficult by data gaps and ongoing fraud recovery efforts, officials said at a Senate hearing.
Tech & Data
More than 45 organizations signed a letter asking government agencies, including in states, to stop their use of ID.me or any facial recognition for identity verification.