Author Archive
Quinn Libson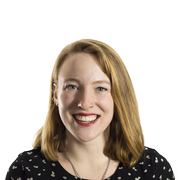 Quinn Libson is a Staff Correspondent for Government Executive's Route Fifty and is based in Washington, D.C.
Management
The opioid abuse crisis may be contributing to a 'staggering' spike in adult protective services caseloads. And local officials fear the problem will only get worse.
Management
Most of the financial cost of the crisis came in the form of lost earning and productivity potential for those who had died.
Management
But Jim Carroll has no prior public health experience.
---
Management
"The main thing I want to bring with me to the table is an all-hands approach," Brumage told Route Fifty. "This is not just about law enforcement and it's not just about public health."
Management
Now that the Trump administration has approved work requirement waivers in two states—Kentucky and Indiana—as many as 11 more could follow.
Management
Here's why that's actually a good thing.
Management
"Those of us who are women who hold power … we have a responsibility to share our stories."
Management
But Jim Kenney also warns his fellow mayors that "without the help of federal and state governments in education and job training and addiction services, we're never going to turn the corner."
Management
The plaintiffs contend that waivers that require work as a prerequisite for health coverage will cause "irreparable harm to the health and welfare of the poorest and most vulnerable in our country."
Management
State officials aren't likely to forget this episode of Congressional paralysis—and the precedent it set—any time soon.
Workforce
The job requirements surprisingly do not include experience with Microsoft Paint.
Management
But the data and the on-the-ground experience of local health officials beg to differ.
Management
The state's waiver would also impose monthly premiums on beneficiaries, and threatens six-month program lockouts on individuals who do not comply with Medicaid rules.
Management
The new guidelines would allow states to force some able-bodied childless adults to work as a condition for eligibility for the federal program.
Management
Experts speculate that Kentucky could be the first state to see its work requirement waiver approved—a move that could mean 95,000 fewer enrollees in that state over the next five years.
Management
Even though a legislative proposal lost out in Trenton, this bacterium helped win a Nobel Prize and cure a global disease.
Management
That means hard conversations like when and how to freeze enrollment or terminate coverage altogether will be back on the table in some states.
Management
Plus an update on Medicaid ballot initiatives in Utah and Idaho, and what the legislative tiebreaker in Virginia means for that state's expansion.
Management
Maternal health data in the U.S. is so imprecise the federal government hasn't released an official annual count of pregnancy-linked fatalities since 2007.
Management
More people died from overdoses in 2016 than died from AIDS in 1995, the peak of that crisis.