Author Archive
Frank Konkel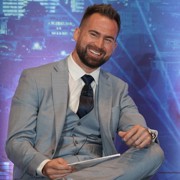 Frank Konkel is vice president of editorial and an editor at large for Nextgov/FCW. He writes about the intersection of government and technology. Frank began covering tech in 2013 upon moving to the Washington, D.C., area after getting his start in journalism covering local and state issues at daily newspapers in his home state of Michigan. Frank was born and raised on a dairy farm and graduated from Michigan State University.
Digital Government
When California's health insurance marketplace migrated to the cloud, it cut costs, improved consumer experience and gained the ability to scale to demand.
Digital Government
Microsoft is opening up its commercial generative AI technology to public sector customers and partners.
Digital Government
TikTok poses a national security threat, according to lawmakers on both sides of the political aisle.
---
Infrastructure
The money is available through the Bipartisan Infrastructure Law.
Workforce
Public sector employees cite the cost of taking time off as a key reason why they aren't vacationing.
Workforce
The trend toward more remote work is challenging for government IT professionals to keep networks secure, according to a recent report.
Digital Government
Watchdog recommends synchronizing the federal government's fragmented push by 15 agencies administering 100 programs.
Management
A consumer survey suggests citizens are taking some steps to prepare for possible cyberattacks.
Digital Government
The study suggests one of the biggest barriers for women in tech is a lack of promotion opportunities.
Digital Government
The White House also announced sanctions that will limit Russia's access to cutting-edge technologies.
Digital Government
Most public sector IT professionals believe a lack of expertise and resources are hindering cyber posture as well.
Digital Government
Tech companies are among those taking the lead following federal guidance on vaccine mandates.
Digital Government
Such technology aren't making it more likely for workers to lose jobs in major 10 industries, the authors found.
Digital Government
In a survey of U.S. and U.K. IT decision makers, three out of four reported onboarding a new cloud provider during 2020.
Management
The responses indicate vaccinated American workers are calling for more punitive measures against their unvaccinated counterparts.
Digital Government
The single largest risk factor reported by respondents is the influx in remote work, according to a recent technology report.
Digital Government
Lawmakers on both sides of the political aisle have concerns about increased use of biometric technology.
Digital Government
A Georgetown center's report assesses how artificial intelligence could sway the opinions of millions by writing "seemingly credible" and "compelling fake" news stories.
Digital Government
The bill would provide $120 million annually for seven years to fund tech teams and tech planning grants.  
Digital Government
Though the margins are tight, the incoming president may nominate more progressive candidates for certain positions, experts say.