Author Archive
Kery Murakami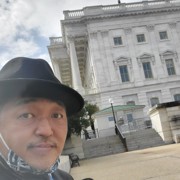 Kery Murakami is a senior reporter covering Congress and federal agencies for Route Fifty. A longtime reporter, he has covered state, city and county governments, as well as transportation, at newspapers like the Seattle Times, the Seattle Post-Intelligencer and Newsday. In Washington, D.C, he has covered federal policy areas including broadband, healthcare and higher education.
Infrastructure
Coal, oil and gas communities are receiving an amount of investment that is far above their share of the population.
Management
The program wants to increase primary care for Medicare and Medicaid recipients while reducing hospital and emergency room visits.
Cybersecurity
A report from the Government Accountability Office identified 27 grants not "intended to primarily support cybersecurity activities" that state and local governments could tap for critical funding—if they have grant writing expertise.
---
Finance
The chamber approved the same "laddered" spending bill as the House in a 87-11 bipartisan vote.
Infrastructure
Deploying broadband in a way that discriminates against low-income communities is barred under the new rules, but observers worry that loopholes will make the rules less effective.
Finance
The continuing resolution extends SNAP through September, ensures other benefit programs are funded into early 2024 and avoids millions of workers being furloughed.
Management
Officials say they could see an uptick in unemployment insurance claims, have trouble feeding low-income families and experience disruptions to air travel, among other things.
Finance
The House GOP's Transportation and Housing and Urban Development funding bill would cut $8 billion from the departments. But that's not what scuttled the vote.
Finance
Congress approved one-time funding last year to help low-income families pay to heat and cool their homes. As winter approaches, states and advocates are calling for more money.
Management
The GOP funding cuts, passed along party lines, would significantly impact state and local efforts to improve drinking water and reduce water pollution. Additional cuts would severely hamper environmental justice projects.
Infrastructure
The rule, which required internet companies to put down millions of dollars upfront, would have excluded all but the biggest providers.
Infrastructure
Despite local efforts, millions of tons of the powerful greenhouse gas, mostly from thrown-out food, are being released into the atmosphere. In a letter, cities have asked the EPA for grants, trainings and stronger regulations.
Infrastructure
The rules, which observers anticipate will be challenged in court, would allow the FCC to penalize broadband companies for providing poorer service to low-income customers.
Workforce
Colorado's quantum innovation hub consortium will ensure minorities and workers in rural and low-income areas get a fair share of the millions of jobs they believe the hub will create.
Emerging Tech
The Biden administration expects the innovation hubs to spur scientific and technological innovation in communities across the country, including small and rural areas and those with historically underserved populations.
Management
King County, Washington, is pushing counseling and diversion programs and considering closing its juvenile detention facility.
Finance
Because borrowers will have less discretionary income, states and cities will likely see less tax revenue, a recent Pew report says.
Finance
The problem is even bigger this year, according to the Government Accountability Office. The lack of reporting makes it difficult to track fraud, waste and abuse.
Workforce
The end of federal child care subsidies will impact states differently depending on how they used the money and if they plan to spend their own.
Infrastructure
State broadband offices say that a subsidy to help low-income households get online is key to national efforts to provide every American with access to high-speed internet.