Author Archive
Kery Murakami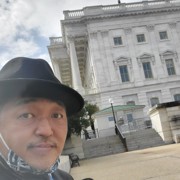 Kery Murakami is a senior reporter covering Congress and federal agencies for Route Fifty. A longtime reporter, he has covered state, city and county governments, as well as transportation, at newspapers like the Seattle Times, the Seattle Post-Intelligencer and Newsday. In Washington, D.C, he has covered federal policy areas including broadband, healthcare and higher education.
Finance
Federal officials are still going after fraudsters who siphoned billions from emergency Covid-era programs, while also trying to prevent similar malfeasance in the future. State-managed unemployment programs are one area getting heavy attention.
Finance
With a battle over federal spending brewing between Republicans and Democrats in Washington, counties and low-income housing advocates are warning of potentially damaging cuts.
Finance
Route Fifty caught up with mayors from around the country to get their views on Republican threats to chop federal spending.
---
Finance
The American Civil Liberties Union is among those raising questions about federal Covid aid from the American Rescue Plan Act going to corrections projects.
Infrastructure
Demands for new facilities, along with noise complaints and paddle-toting attendees at city council meetings are just some of what they're contending with as the sport's popularity skyrockets.
Public Safety
Immigration and how cities are spending federal funding were among the topics that came up during the White House meeting.
Public Safety
Democratic and Republican mayors are pushing for major reforms. New York City Mayor Eric Adams spoke to Route Fifty about his efforts to coordinate with other city leaders on the issue.
Finance
Detroit's mayor urged others to speed up putting American Rescue Plan Act funds to use and to take special care that spending adheres to federal rules. He's not the only one raising concerns.
Public Safety
It marks a major win for advocates who have for years argued incarcerated people are getting overcharged for calls. But it will also crimp a revenue source for states and localities.
Health & Human Services
Where the party has majorities, they hope to focus on issues like housing, voting rights and criminal justice. In GOP-controlled states, they want to hold the line against Republican proposals on abortion, school vouchers and guns.
Infrastructure
The largest increase for housing and community development in the latest federal spending bill came from earmarks, where lawmakers direct funding to specific projects in their states.
Health & Human Services
During the early days of the pandemic, Congress banned states from stripping people of Medicaid coverage. That and an additional $90 billion a year in federal funding to the states is coming to an end.
Infrastructure
There's $85 million available for communities that want to relax restrictions on the density and type of housing that can be built in certain neighborhoods, especially areas limited to single-family homes. Proponents say the changes could address both affordability and equity concerns.
Infrastructure
Roughly 17 million infrastructure workers will retire in the next 10 years, raising worries about who will erect and maintain America's roadways and buildings.
Finance
Congressional lawmakers fought back attempts by conservatives to delay the legislation until next year, approving billions for infrastructure, new regional technology hubs, homelessness programs and other state and local government priorities.
Finance
The massive spending bill moving ahead in Congress was amended to allow for American Rescue Plan Act aid to go toward new uses, including disaster recovery and transportation infrastructure.
Infrastructure
State and local officials and others have raised questions about the accuracy of the The Federal Communications Commission map and the process to make corrections to it.
Finance
A number of provisions state and local governments had been seeking were excluded, including renewed expansions of tax credit programs that help support low-income housing and households with kids.
Management
The proposed changes would have cleared a path for state-regulated marijuana companies to access banking services, instead of doing business primarily in cash.
Finance
A law to promote domestic semiconductor production approved earlier this year created the regional development program, but didn't fund it. The proposed spending would enable its launch.