This article is republished from The Conversation under a Creative Commons license. Read the original article.
When people go on strike, their employers don't pay them. That makes it hard for workers who have walked off the job to keep paying their bills. Union members have an advantage during strikes because they can get help with housing, food and other essential expenses through payments from strike funds.
These payments only cover basic expenses and generally don't fully replace lost income.
Members pay dues and fees to finance their unions. Every month, members of the United Auto Workers, for example, pay the equivalent of what they earn in two hours to their union. New members can also be required to pay a one-time initiation fee that's much higher. The Screen Actors Guild's initiation fee is US$3,000.
Beyond covering day-to-day operations, union dues accumulate for future uses, including strike funds. Once a strike is authorized, members in good standing are eligible to receive either a fixed dollar amount or a percentage of their earnings as outlined in the union's constitution and bylaws.
Union members have traditionally reported to a local union's office on a specific day and time to pick up their strike benefits. Some unions are seeing if they can rely instead on electronic distribution systems.
Why strike funds matter
When unions have amassed large strike funds, it can force employers to take the threat of a strike seriously because it signals that workers can stay off the job longer. That, in turn, can help unions win more of their demands during contract negotiations.
Other sources of financial support during strikes are limited.
Two states, New York and New Jersey, allow workers to collect unemployment benefits while they're on strike. California's legislature approved a similar measure on Sept. 14, 2023. But for the most part, U.S. workers can't get jobless benefits during strikes.
Charity can play a role as well, depending on the industry. Some of the screenwriters and actors who went on strike in mid-2023 have been getting support from nonprofits like the Entertainment Community Fund and the SAG-AFTRA Foundation – to which celebrities like George Clooney, Leonardo DiCaprio, Dwayne "the Rock" Johnson, Meryl Streep and Oprah Winfrey have each given at least $1 million to help Hollywood workers get by while they're not getting paychecks.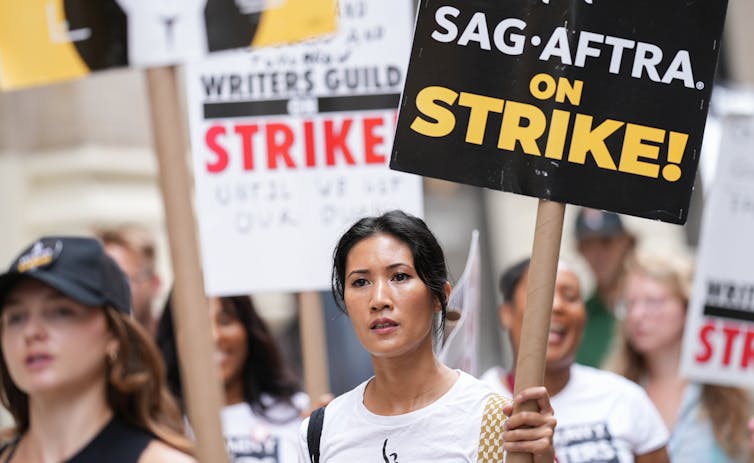 United Auto Workers on strike
The UAW went on strike against Ford, General Motors and Stellantis – the company that makes Chrysler vehicles – after its negotiations with the three Detroit-based automakers didn't result in a contract by 11:59 p.m. on Sept. 14, 2023.
The union has committed to making weekly payments from its strike fund of $500 per week, plus some benefits, to all striking workers. Its members' pay varies, but the highest earners at unionized U.S. automotive assembly factories can make up to $32 an hour – $1,280 per week – plus benefits.
The UAW has about $825 million in its strike fund. That money could probably last for 12 weeks if all of its nearly 150,000 members working for automakers were to go on strike at one time. But the union is initially targeting only three factories, with 13,000 workers walking off the job. This tactic will help ensure that its workers can stay on strike longer.
This article was updated on Sept. 15, 2023, to indicate that the UAW strike had begun and that the California legislature had passed a bill allowing workers on strike to get unemployment benefits.
Powered By
NEXT STORY: Who are your rising stars?