Governments geared up protective measures against the dangerously hot weather baking nearly every part of the country this past week. Plus, more news to use from around the country in this week's State and Local Roundup.
You're reading Route Fifty's State and Local Roundup. To get the week's news to use from around the country, you can subscribe here to get this update in your inbox every Friday.
***
It's Saturday, July 29, and we'd like to welcome you to the weekly State and Local Roundup. There's plenty to keep tabs on, with 22 state attorneys general contesting a PFAS settlement with 3M, the Justice Department investigating the Memphis Police Department for civil rights violations, states siphoning more than $750 million from the infrastructure law, and teachers suing over a Tennessee law limiting lessons on race, sex and bias. But first we'll start with the scorching heat. 
No natural phenomenon kills more people in the U.S. than heat, which takes the lives of about 600 Americans annually. That's why public officials from the White House to city halls are scrambling to help their residents survive and cope with the unprecedented hot spell that has engulfed the country this month.
Half the U.S. population was under heat watches and warnings at some point this week, capping off a month that scientists predict will be the warmest globally on record.
City officials, well aware of the catastrophic potential of excessive heat, have activated plans to help residents reduce their temperatures with splash pads, pools, spray showers, watering stations and cooling centers, including libraries.
"Access to cooling is a matter of life and death," warned New York City Mayor Eric Adams on Thursday. Ashwin Vasan, the city's commissioner of health and mental hygiene, said 80% of the city's heat stroke deaths in recent years involved people whose homes did not have air conditioning. "The best way to prevent heat illness is to stay in a cool indoor air-conditioned place," he said. "A fan is not enough."
In Phoenix, where temperatures have hit 119 degrees several times this week, the city is under a court order to clear a large homeless encampment called The Zone to prevent heat deaths. Mayor Kate Gallego said the city is working with the federal government, local nonprofits and faith organizations to help people who are still outside.
"Sometimes, it's gel towels that help cool people who choose to be outside. And sometimes, it's the more than 4,000 cases of water that we have deployed. We have a robust network of cooling centers, about … 62 in our region. And those can be important. But my goal would be to get people inside in air-conditioned environments," she told NPR.
Gallego appeared via video at a White House event Thursday with President Joe Biden, where she said Phoenix was "on the front lines of climate change."
She touted a local program called Cool Callers, where residents sign themselves or someone they know up for visits from volunteers who can provide help during the hot streak. The city is also exploring resilient, energy efficient housing made from shipping containers to provide shelter for people without homes, which workers can build indoors without being exposed to the brutal heat outside, she explained.
San Antonio Mayor Ron Nirenberg also joined Biden and Gallego at the event. He said the city is offering free transportation to residents to get to cooling centers.
But Nirenberg noted that a new Texas law could undermine future efforts to protect workers in the city during heat waves. The so-called Death Star law passed this month by Republican state lawmakers will preempt a vast swath of local laws including those requiring that construction workers get water breaks.
"Texas cities are in a battle with the state for local control," Nirenberg told Biden, "but we're going to do everything possible to protect our most vulnerable workers, especially those outdoor workers for basic things like being able to access water breaks."
The president convened the event to tout his administration's efforts to address the dangers of the current heat wave. The Labor Department issued its first-ever heat hazard alert, putting employers on notice that they must protect workers from the extreme conditions. The department will also step up enforcement of heat-related rules, especially for industries such as construction and agriculture.
"We should be protecting workers from hazardous conditions," Biden said. "Construction workers who literally risk their lives working all day in blazing heat, and in some places don't even have the right to take a water break. That's outrageous."
The administration also announced an increase of $7 million from the Inflation Reduction Act for weather forecasting and $152 million from the 2021 infrastructure law to improve drinking water infrastructure in California, Colorado and Washington.
Gallego, the Phoenix mayor, called for more federal action, including devoting more money from the Low Income Home Energy Assistance Program, known as LIHEAP, for residents to pay their air conditioning bills in places with extreme heat. "Even when the heat wave is over, many of our families may see their largest ever energy bill in their mailboxes," she said.
She also backed an increasingly popular idea to allow federal disaster declarations for extreme heat events, which would help states mobilize in the same way they would for winter storms, floods, hurricanes or tornadoes.
Keep reading as there's more news to use below, and make sure to come back here for the week's highlights. If you don't already and would prefer to get it in your inbox, you can subscribe to this newsletter here. We'll see you next week.
News to Use
Trends, Common Challenges, Cool Ideas, FYIs, and Notable Events
Picture of the Week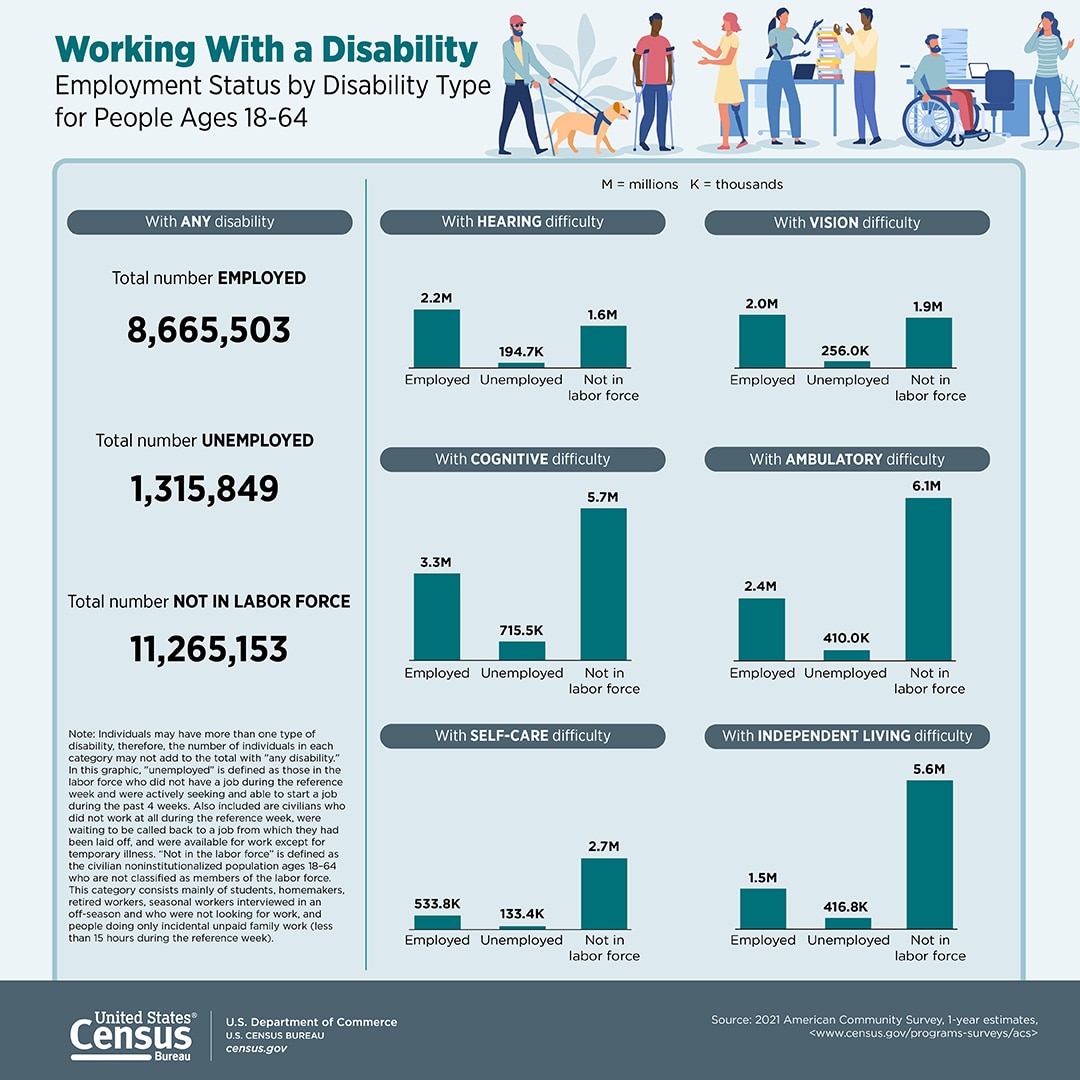 The anniversary of the Americans with Disabilities Act was this past Wednesday. Signed into law by then-President George H.W. Bush 33 years ago, the law bars discrimination based on disability and guarantees equal access to public buildings and businesses, employment opportunities, transportation, telecommunications, commercial facilities, and state and local government services. Roughly 42.5 million or 13% of the total U.S. population lives with a disability, according to the U.S. Census Bureau.
Government in Numbers
260,000
The number of Chicago households that don't have a computer at home, according to the U.S. Census Bureau. To close this 260,000-device gap, Mayor Brandon Johnson announced last week the launch of a month-long campaign encouraging the business community and large organizations to donate computers and laptops no longer in use to be refurbished and given to families who need a free or low-cost device. In a citywide survey of more than 3,000 residents, nearly half of respondents without a device are living in extreme poverty.
ICYMI
How local leaders are getting one hot county to cool down
From emissions reductions to cool roofs, Miami-Dade County is exploring how building efficiency plays a role in the growing heat crisis.
BY KAITLYN LEVINSON
State child tax credits can reduce poverty, but only if families apply
Since the federal child tax credit expired at the end of 2021, 11 states have enacted their own fully refundable versions. But for them to be as successful as the federal credit, states have to get the word out.
BY MOLLY BOLAN
States could use federal money to add Tesla chargers
Kentucky, Texas and Washington might add extra plugs for the popular EVs, as several automakers indicated they would make cars with the same connections in coming years.
BY DANIEL C. VOCK
Public sector slow to respond to cyberattacks, report finds
It takes government agencies more than 225 days to identify a cyber threat and 92 days to contain it, but AI and automation could significantly reduce that time.
BY CHRIS TEALE
States put buying power to work for local governments
When states drive cooperative procurements, local agencies can take advantage of volume discounts, experienced contracting officers and a streamlined process.
BY STEPHANIE KANOWITZ
Is HR the solution to many transit agencies' woes?
Understaffed and underfunded, public transit is struggling to keep up with demand. A new report suggests that investing in human resources could be the solution.
BY DANIEL C. VOCK
What it's like to be a homeless woman
A recent survey of unhoused women sheds light on an oft-overlooked and little understood problem. As the number of homeless women grows, so do their concerns about safety and privacy.
BY MOLLY BOLAN
The nation's biggest public union wants to help fix the workforce shortage
The group has launched a listening tour and has already received feedback from state and local workers on what governments can do to attract and retain employees.
BY KERY MURAKAMI
State and local Case Studies
Powered By
NEXT STORY: Pandemic spending exposes weaknesses in how governments handle data